OhioBWC - Home:
Current News
---
Posted by Elizabeth S
3 p.m., April 2, 2015
Thanks for attending and #BeSafeOhio!
We hope you learned something new at OSC15 to take back to your workplace.
Need session handouts? They can be downloaded from the Attendee Service Center for the next 30 days. You'll need the password that was provided to you on your registration confirmation to access these materials.
We look forward to seeing you next year. Follow us year-round on Twitter @OhioBWC for workers' compensation information and safety tips.
Stay tuned for information about OSC16. Be safe, Ohio!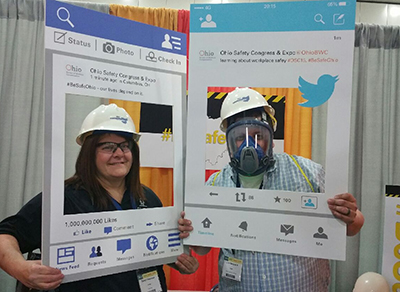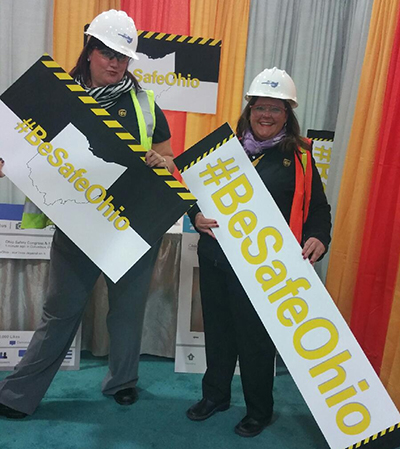 Posted by Elizabeth S
Noon, April 2, 2015
The importance of managing stress discussed at general session.
Today is the last day of OSC15. The Expo Marketplace is closing soon, but educational sessions will continue this afternoon
More than 1,000 people attended this morning's general session with speaker Zonya Foco. She said researchers estimate that 75 to 90 percent of primary care physician visits are for conditions that are in some way stress related.
"We've got to help our workforce, and ourselves, to dial it down," Foco said.
She recommended six ways to reduce stress: Take deep breaths, think positive, fuel wisely, simplify your life, medicate with music and fit in fitness.
"Strezz-free starts with you!" she said.
Enjoy your afternoon and keep following us on Twitter @OhioBWC.
If you're tweeting, be sure to use the hashtag #OSC15.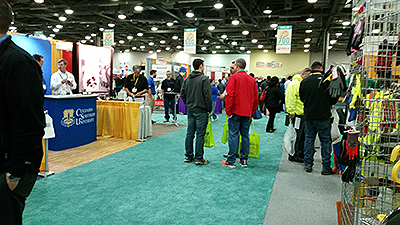 Posted by Elizabeth S
4:30 p.m., April 1, 2015
Second day of OSC15 concludes
Attendees participated in educational sessions, checked out products and services at the Expo Marketplace, and connected with peers in their industries today.
Below are pictures from the Smoke, Fire and Water hands-on demonstration and BWC's social media themed OSC15 photo booth, which is located near the registration area.
We're thrilled to see the large number of tweets from vendors and attendees. Join in by using the hashtag #OSC15 on Twitter. You can also follow us @OhioBWC.
Tomorrow, the Expo Marketplace will be open from 7:30 a.m. to 12:30 p.m. While you're there, stop by our social media themed photo booth, and take a selfie or a group photo!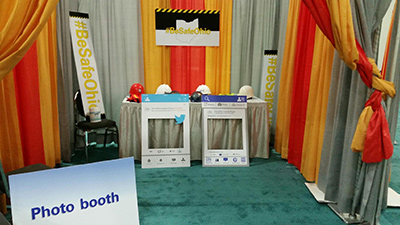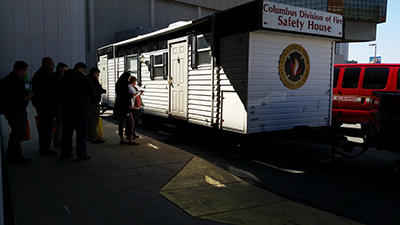 Posted by Elizabeth S
12:30 p.m., April 1, 2015
Day Two: Expo Marketplace open, sessions continue
OurExpo Marketplace was buzzing with activity this morning. Consultants are standing by at our BWC booth (417) to answer any workers' compensation questions.
BWC Administrator/CEO Steve Buehrer welcomed attendees during the opening session and reminded them of this year's event theme: Imagine, Innovate, Inspire.
"These three words can truly help create a safety culture in workplaces and help us all reach our shared goal of bringing every Ohio worker home safely at the end of their shift."
Opening session speaker Cheryl Cran discussed what leaders and teams must to do to thrive now and in the future. The Expo Marketplace is open until 4 p.m. Stop by between sessions to shop for products and services, and also to view those competing in the Safety Innovations competition. We'll announce the winners tomorrow.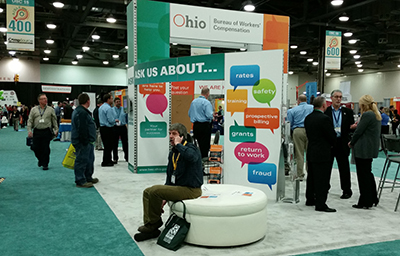 Posted by Elizabeth S
7:00 a.m., April 1, 2015
OSC15 is underway; first day of sessions completed
We hope you enjoyed the first day of the 2015 Ohio Safety Congress & Expo. Many attendees picked up their registration materials and became acquainted with the Greater Columbus Convention Center.
Approximately 100 people attended the Get Moving at Work: Creating Physical Activity Opportunities for Your Associates session yesterday afternoon. Wellness Collective Vice President Sarah Towning provided examples of physical activity opportunities at the workplace, and included brief stretch and exercise breaks during her presentation. The workshop concluded with a 45-minute fitness class.
Stopping in the middle of a meeting for five minutes of stretching, Towning said, will help employees focus. Meetings can be held while participants walk or stand.
"Be the example," Towning told attendees, encouraging them to model the appropriate behavior.
Amy Nelson, who works for manufacturing plants in Lancaster and Somerset, said she plans to do just that. She said she learned yesterday afternoon that incorporating physical activity in the workplace can take as little as five minutes.
Today, the Expo Marketplace opens and more educational sessions will be offered.
To follow along on Twitter, search for the hashtag, #OSC15, or follow us @OhioBWC.
Posted by Elizabeth S
10 a.m., March 31, 2015
Welcome to Safety Congress!
Approximately 6,000 safety-minded Ohioans are gathering here at the Greater Columbus Convention Center for the Ohio Safety Congress & Expo 2015, which begins today.
Some people are already here, picking up their badges and heading to their first sessions.
We'd love to see your pictures of OSC15! Feel free to tweet them using the hashtag, #OSC15.
You can receive event updates via our OSC15 mobile app. To download it, visit the App Store or Android Marketplace and search for "Ohio Safety Congress & Expo." With the app, you can search for sessions, exhibitors and speakers on your smart phone or tablet.
Throughout OSC15, we'll post updates here and on Twitter @OhioBWC.
We're glad you're here. Stay tuned for updates.