Posted by Elizabeth S
4:30 p.m. March 27
Thanks for attending! Mark your calendar for OSC15.
We hope you enjoyed OSC14, and that you've learned something new to take back to your workplace.
Babette Burnett, safety director for Spieker Company in Perrysburg, said she enjoyed her first Safety Congress. She added that she was pleased to find good prices on products here.
Dean Thorsen, national sales manager of PS Doors in Grand Forks, North Dakota, said the Ohio Safety Congress & Expo is a great way for businesses offering products to Ohio businesses to be seen due to the large number of attendees. "It is the most well-run," Thorsen said, comparing Safety Congress to other similar regional and state-run shows in the U.S. "It is outstanding."
Session handouts can be downloaded by clicking here for 30 days after the event. You'll need the password that was provided to you on your registration confirmation to access these materials.
Mark your calendar for OSC15.
---
Posted by Elizabeth S
2:30 p.m. March 27
Working in confined spaces, chemical spill response demonstrated
It's the last day of OSC14. The Expo Marketplace wrapped up, but educational sessions continue this afternoon.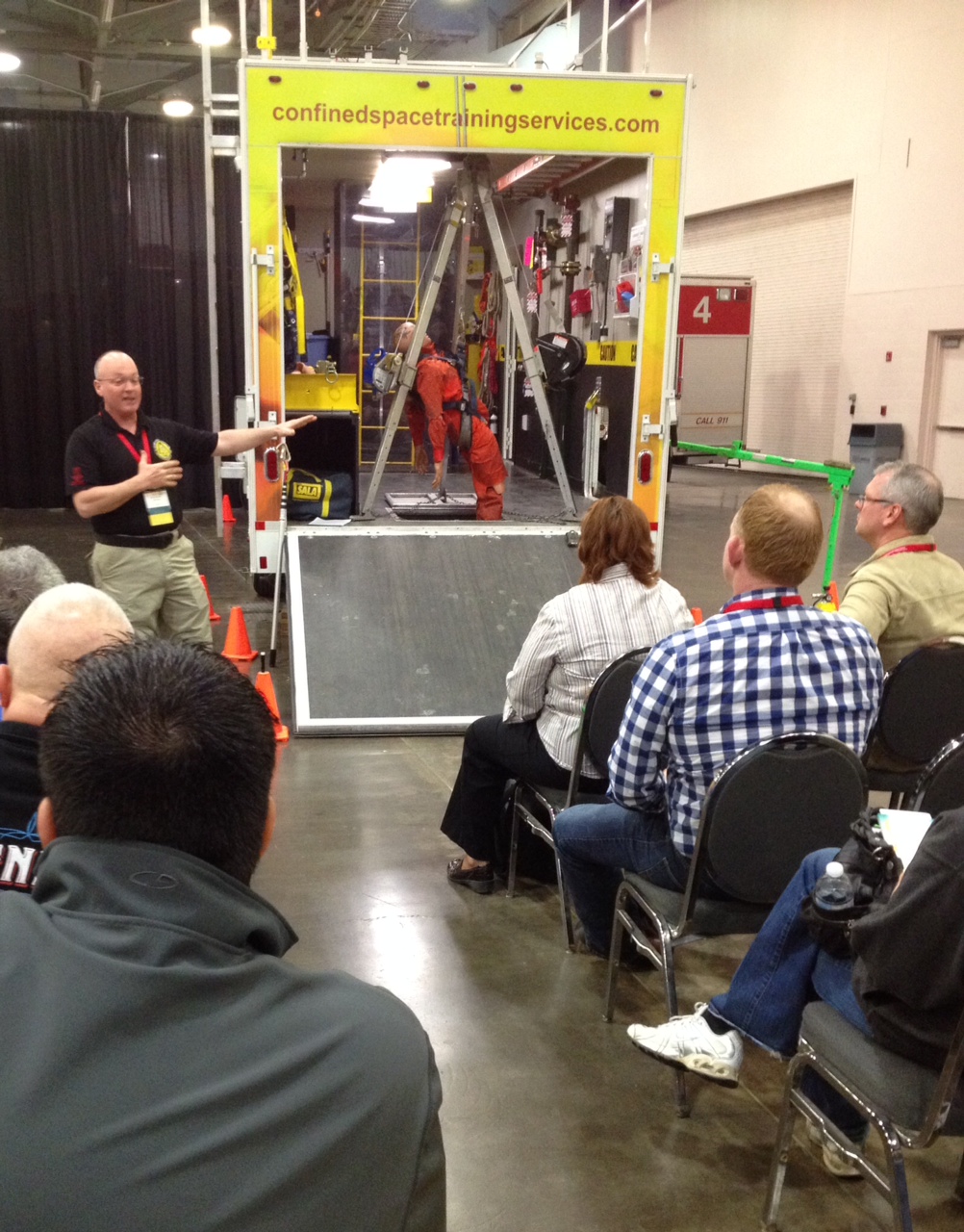 This morning, dozens attended the session, New OSHA Confined Space in Construction: What, How, When. Presenter Scott Goodwin, director of CSTS Global in Toledo, discussed how to safely enter confined spaces and demonstrated a typical confined space entry.
"Please don't use 9-1-1 as your emergency plan," Goodwin said, adding that there could be lag time before firefighters arrive, and that not all fire departments are trained to handle this type of situation. "Take responsibility for your confined space."
He referenced a 2010 incident in Middletown where a city worker died in a confined space and multiple firefighters fell in and were injured while trying to rescue the city worker.
Also this morning, members of the City of Columbus Division of Fire Hazmat Response Team demonstrated how a fire-based HazMat team responds to and handles HazMat spills and leaks at businesses.
William Brobst Jr., HazMat technician and captain for the City of Columbus Division of Fire, discussed the process, including decontamination and how companies responsible for spills are billed.
"I've never seen this done," said Joe Blankenship, a technician for the city of Gahanna. "It's interesting to see. I didn't know they had their own HazMat crew."
---
Posted by Elizabeth S
4:30 p.m., March 26
Second day of OSC14 concludes
Attendees are partaking in educational sessions, checking out products and services at the Expo Marketplace and connecting with peers in their industries. Lisa Guider said she's enjoying her first Safety Congress. Guider is an engineering coordinator at Honda of America Manufacturing Inc. "It's great that BWC does this," Guider said. "I'm seeing people I know and getting ideas for training."
Derek Hale is a repeat attendee; he came to last year's Safety Congress as well. "It's a great chance to see how each of us solve different problems," said Hale, environmental health and safety compliance coordinator for VEC Inc.
Earlier today, Battelle Memorial Institute, an Ohio-based nonprofit research and development organization, fittingly used OSC14 as a platform to introduce a new workplace safety innovation. For more details on this announcement, click here.
Tomorrow is the final day of OSC14. We'll live-tweet these sessions: 10 Steps to Effective Accident Analysis, General Session, Mission: My Safety, and Employment Law Basics. Follow along @OhioBWC!
We hope you're enjoying your time at OSC14!
---
Posted by Elizabeth S
3 p.m., March 26
Proper fall protection discussed, demonstrated
A standing-room only crowd gathered this morning for The ABC's of Fall Protection: Live Fall Arrest Demonstration. The session was led by Dave Gallegly, fall protection specialist for Miller Fall Protection by Honeywell in Uniontown. Gallegly discussed how to properly use and select fall equipment, and demonstrated how it works. He also discussed properly calculating total fall clearance.
"People need to understand what each product can and cannot do," Gallegly said.
John Hillman, of Fort Amanda Specialties in Lima was among those who attended. He said the session was helpful.
"Safety is everything," Hillman said. "You want to go home at the end of the day."
Don't forget to visit the Expo Marketplace between sessions. It's open until 4 p.m. today and from 8 a.m. to 12:30 p.m. tomorrow, March 27.
---
Posted by Elizabeth S
9 a.m., March 26
Day Two: Expo Marketplace opens, sessions continue
Welcome back, OSC14 attendees!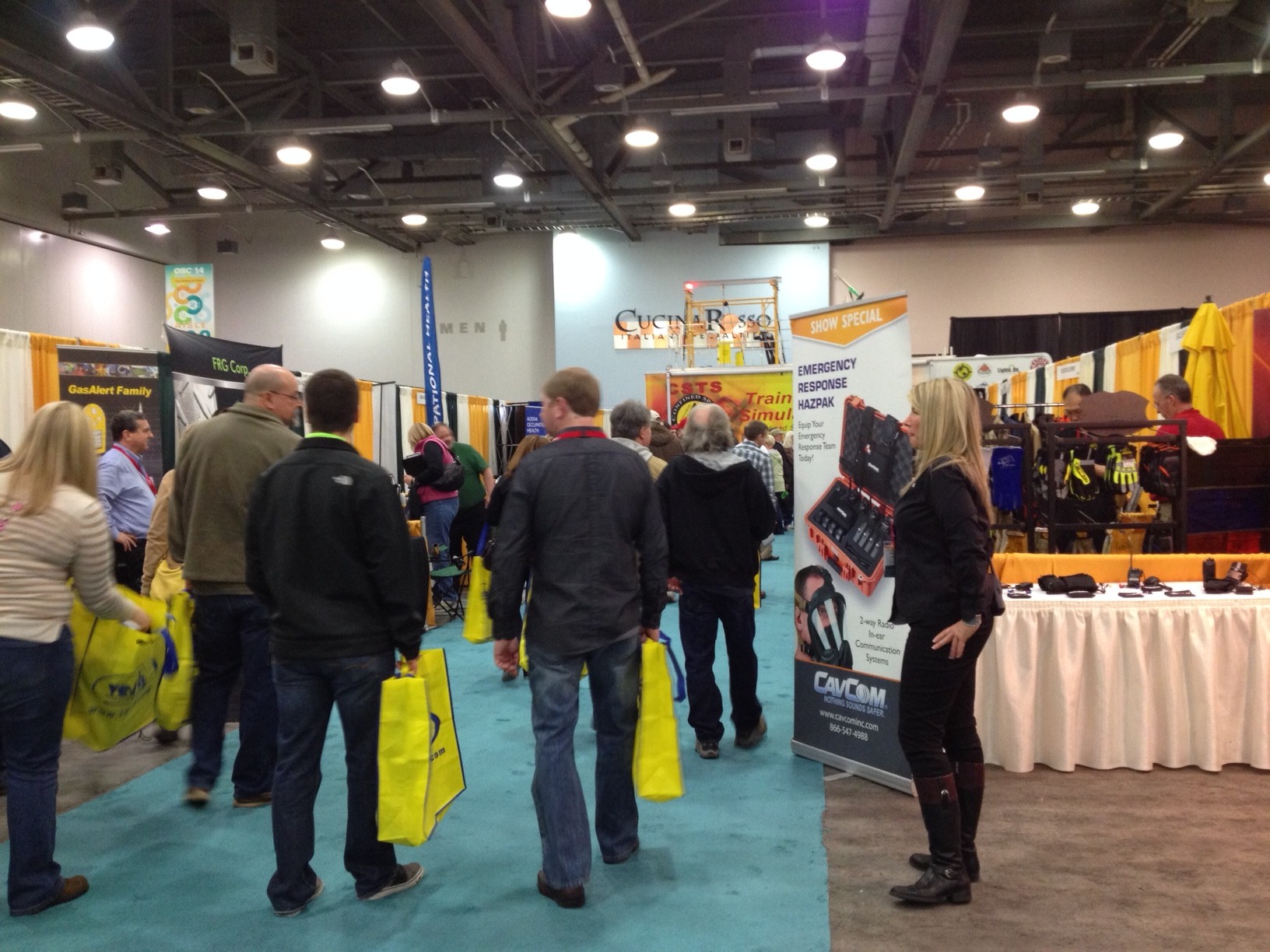 Our Expo Marketplace is already buzzing with activity this morning. It's open until 4 p.m. today. So stop by between sessions to shop for products and services and also to view those competing in the Safety Innovations competition. Cast your vote until 4 p.m. today, and visit the winners on Thursday.
Need lunch ideas? Click here for information on dining options within walking distance of the convention center.
---
Posted by Elizabeth S
4:30 p.m., March 25
OSC14 is underway, daylong workshops completed
We hope you enjoyed the first day of the 2014 Ohio Safety Congress & Expo (OSC14). Many attendees picked up their registration materials and became acquainted with the Greater Columbus Convention Center.
Several daylong educational sessions just wrapped up. Approximately a dozen people attended the Grain Bin Rescue classroom and live demonstration workshop for rescue personnel. Attendees used the Ohio Fire Academy's Comprehensive Agricultural Rescue Trailer to evaluate the hazards of grain bins and learn how to extricate victims safely.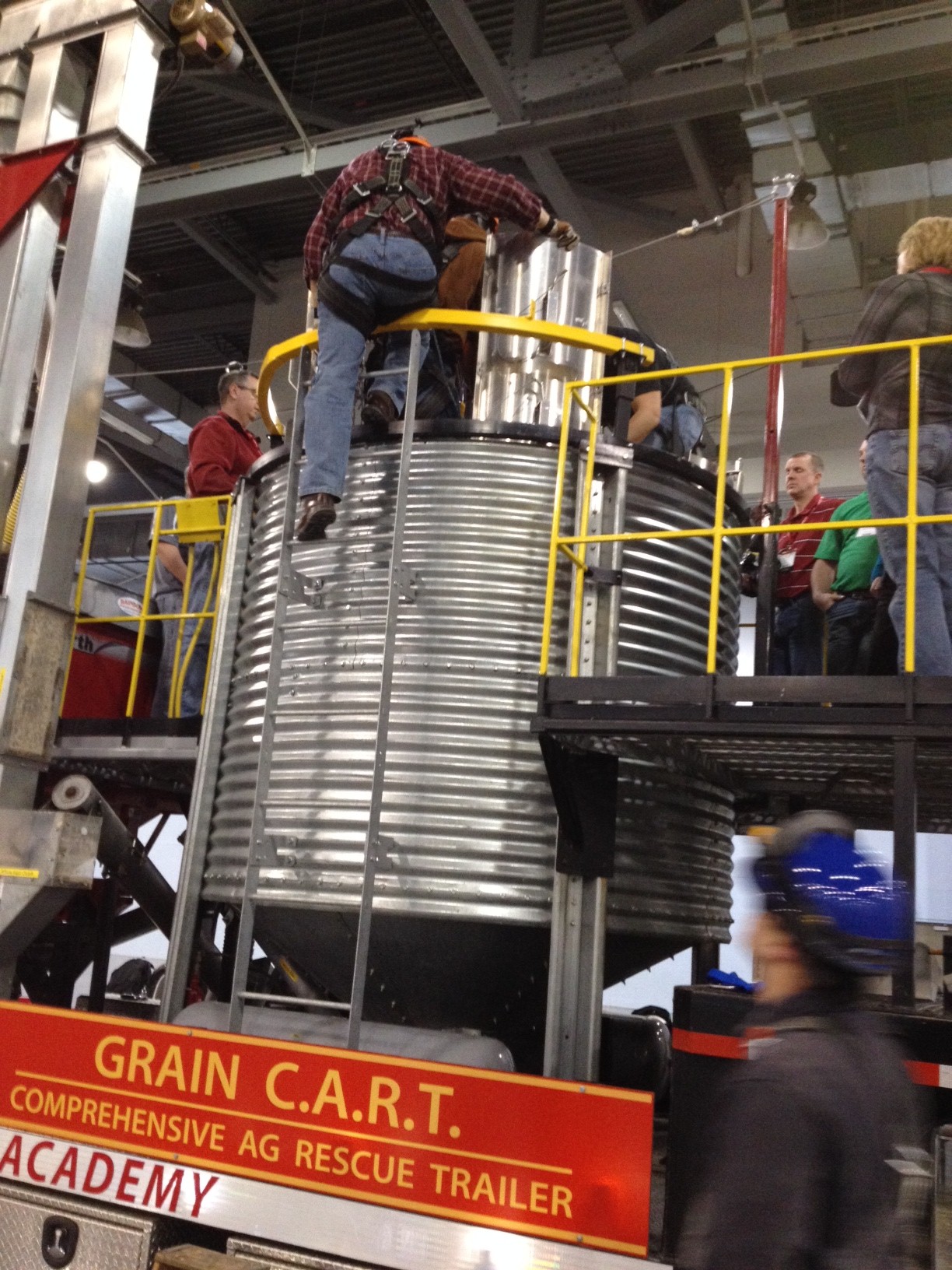 Training first responders about grain bin rescues helps them learn what to do and maintain safety throughout the process, said session presenter Andy Bauer, of the Ohio Fire Academy and The Ohio State University Agriculture Safety Department. Grain bin safety is an issue that isn't going away.
"You have one victim," Bauer said. "You don't want two or three more."
The live demonstration was "as real as it could be," said Keith Snead, safety director at Limbach Company and firefighter, EMT and rescue tech for the Porter Kingston Fire District in Delaware County. Snead served as a victim during the demonstration.
"You can only explain so much in the classroom," Snead said. "You learn so much more in a hands-on scenario."
Tomorrow, the Expo Marketplace opens and a number of educational sessions will be offered. We know you can't attend every session, so we'll live tweet updates from these sessions:
Five Steps to Establishing a Culture of Safety;
Opening session with BWC Administrator/CEO Steve Buehrer and "Selling Safety, Saving Lives" with speaker Scott Deming;
Conducting Safety Inspections in the Workplace;
General session, "Using Science to Make the World a Safer Place," with Battelle Memorial Institute's Gary Carlin.
To follow along, search for the hashtag, #OSC14, or follow us @OhioBWC.

We look forward to seeing you tomorrow!
---
Posted by Elizabeth S
11 a.m., March 25
Safety Congress: Day One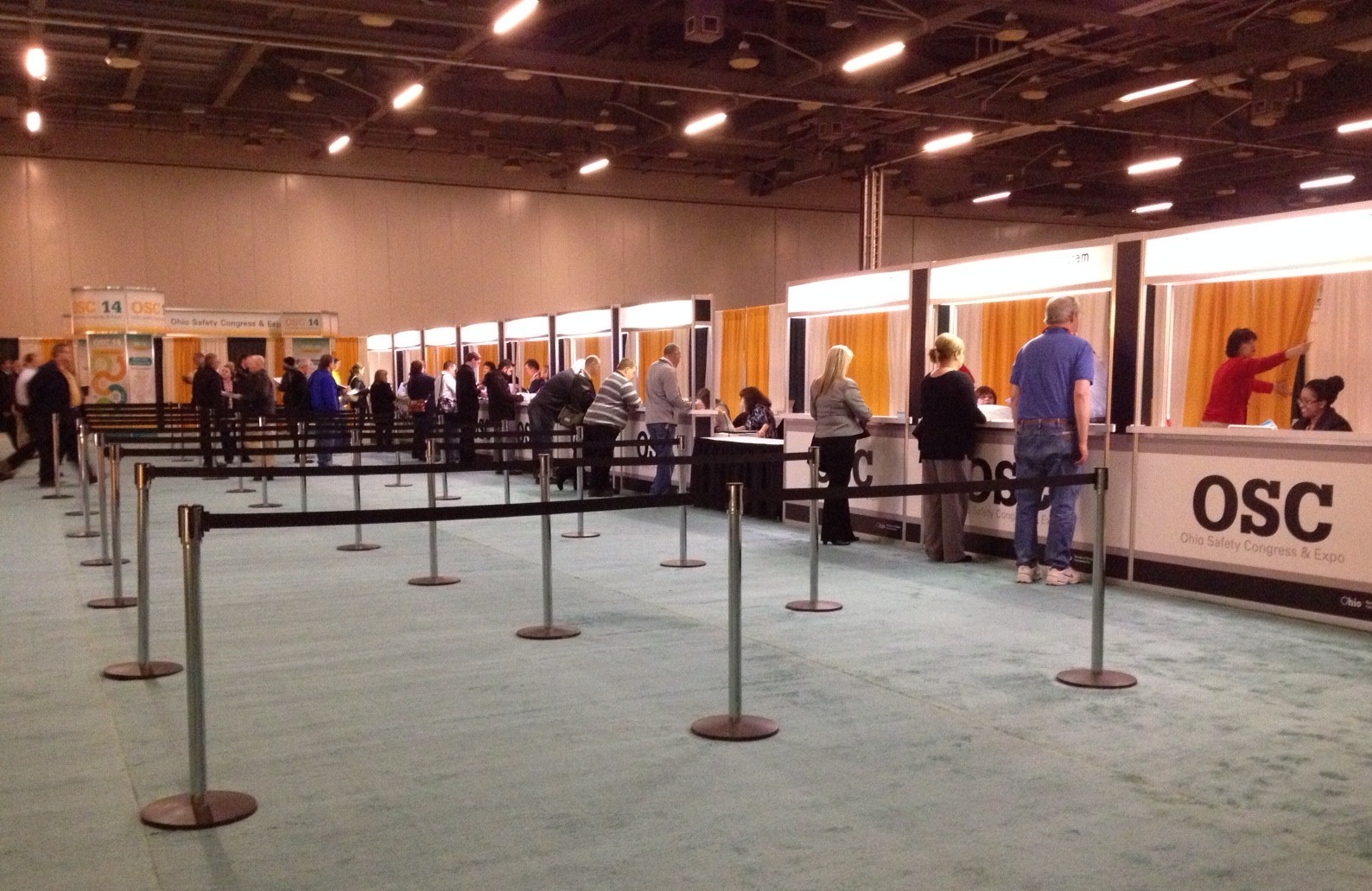 Welcome to the largest regional safety and health conference in the nation! More than 6,000 safety-minded Ohioans will gather here at the Greater Columbus Convention Center over the next three days for the Ohio Safety Congress & Expo 2014.
Nearly all of today's educational sessions are day-long events that include demonstrations. We'll visit the Grain Bin Rescue demonstration after lunch. Throughout OSC14, we'll post updates here and on Twitter @OhioBWC.
As you go from session to session, be sure to stop by the Expo Marketplace – which opens tomorrow – to check out all of the exhibitors. Gather stamps at our featured exhibitors on your Passport to Safety, then turn it in for a chance to win prizes valued at $100 or more. You also can vote for the most innovative safety adaptation to a work process by fellow employers at the Safety Innovation Awards booth, 831.
We'd love to see your pictures of OSC14! Feel free to tweet them using the hashtag, #OSC14, or upload them to our handy Guidebook app. (Don't have Guidebook? Download it here, then search for "2014 Ohio Safety Congress and Expo.")
We're glad you're here! Stay tuned for updates.