The purpose of the Safety Intervention Grant Program is to gather information about the effectiveness of safety interventions so we may share the results with Ohio employers. The program is available to any Ohio state-fund or public employer who wishes to purchase equipment to substantially reduce or eliminate injuries and illnesses associated with a particular task or operation. The program is designed to work and partner with Ohio employers to establish safety intervention best practices for accident and injury prevention.

With the safety intervention grant, private and public employers are eligible for a 3-to-1 matching grant, up to a maximum of $40,000 for each eligibility cycle. This means BWC gives $3 for every $1 the employer contributes

In return, employers will submit to BWC quarterly data reports and a case study one year after the date of the intervention. We'll use this information to determine the effectiveness of the intervention and share successes with other employers.
To review the complete policy for the program click here, otherwise, click on the appropriate link above for the specific information you want.
Top of page
Eligibility requirements
To be eligible for a safety intervention grant, you must:
Be a state-fund or public employer;
Maintain active coverage - not more than 40 days lapsed in the prior 12 months;
Be current on all monies owed BWC;
Demonstrate the need for safety intervention;
Provide two-year baseline data;
Have active BWC coverage with past payroll reports (four if a private employer, two if a public employer) for the purpose of defining employer eligibility cycle.
Note: Employers who participate in a group-rating program or are involved in other BWC-sponsored programs may apply for a safety grant.

Eligibility cycle
Employers who meet the previous eligibility requirements may receive grant funds up to $40,000 per eligibility cycle. We determine the eligibility cycle by review of the last full year for which payroll information is available. For private employers, the policy year is July 1 through the following June 30. For public employers, the policy year is Jan. 1 through Dec. 31.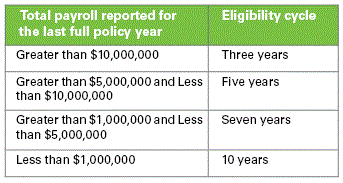 Top of page
Moratorium list and unapproved purchases
Interventions not within the program scope include the following:
Building and/or property improvements;
Equipment intended to meet minimum OSHA compliance;
Equipment related to capital improvement projects already under way;
Interventions used solely for rehabilitative purposes;
Office interventions;
Personal protective equipment;
Passive devices (i.e. cameras, security equipment, monitoring equipment, warning devices, etc.);
Rented or leased equipment;
Routine equipment replacement;
Training;

Aerial scissor lifts;
Anti-fatigue mats;
Automated external defibrillators (AEDs);
Automated beverage dispensers;
Back belts;
Basic machine guarding devices and equipment;
Bathing systems;
Chairs (i.e. office chairs, industrial stools, etc.);
Crash attenuators
Deep fryers;
Digital x-ray equipment
Dough mixers;
Dry cleaning machines;
Earth moving equipment: (i.e. skid steers, front-end loaders, bobcats, etc.);
Electric beds;
Exercise equipment;
Extensible Articulated boom Lifts
Floor cleaning equipment;
Flooring/floor treatments;
Food slicers;
Forklifts;
Fry hoppers;
Lighting;
Pallets;
Powered hand tools. Exception: Pipe saws;
Remote meter readers;
Road repair systems;
Saws with flesh detection technology;
Shrink wrap equipment;
Sit/stand workstations;
Snow removal equipment;
Standard guardrailing systems;
Tables (i.e. cafeteria tables, etc.);
Tire changers/wheel balancers/alignment machines;
Trailers;
Training simulators;
Vehicle lifts;
Vehicles: all driven vehicles including cars, trucks, utility vehicles, gators, tractors, etc.;
Vertical Mast Lifts;
Veterinary Adjustable Tables (i.e. stretchers, carts, etc., for transport, lifting, or care of animals);
Veterinary Bathing Systems;
Walk behind loaders;
Weaponry;
Wrist splints.
Guidance for Powered Cots and Cot Loading Equipment
Employers may apply for cot loading systems or cots with an integrated loading system. They may apply for a powered cot that raises and lowers the patient only if they are replacing a manual cot and if they are also purchasing or applying for a powered load system that will safely assist in loading the cot and patient onto the ambulance.
Top of page
Steps to apply
1. Consultant visits
You must contact your local BWC customer service office to schedule visit(s) by a BWC safety consultant prior to submitting the online application. The employer will allow BWC staff access to the work site to perform an assessment of the facility and operation/area of concern. BWC staff will also complete a comprehensive safety assessment report. This assessment provides BWC with a more comprehensive look at the applicant's overall safety practices. This could help assess the cost effectiveness of providing a safety grant. BWC will also conduct a five-year claims history review.
To schedule a consultant to visit, call BWC's Division of Safety & Hygiene at 1-800-644-6292, and listen to the options.
2. Pre-work for application
Consider using the list below as preparation for completing the steps to apply.
Gather the following data for the operation of concern.
Injury statistics, associated claim numbers and costs for past two years;
Production and quality data;
Absenteeism and turnover rates;
Number of employees in operation of concern;
Hours worked by all employees in operation of concern for past two years;
Job safety analysis or work procedures;
Pictures or video of the operation/tasks of concern.
Determine what type of intervention you plan to implement.
Make sure item is not on the BWC safety grant moratorium list.
Contact vendor(s) to research item.
Arrange for a demo or a trial period if possible.
Include affected employees in evaluation.
Get pictures or drawings to illustrate intervention(s).
Get a recent, detailed price quote(s) for the intervention(s) from the equipment vendor.The detailed price quote must be specifically for the employer applying for the grant funds, and must list all items to be purchased.
Arrange for BWC assessment of facility and operation/area of concern.
Gather safety management and safety program documentation.
Contact BWC consultant to schedule a meeting (see step 1 above).
Assist with facility/job analysis, exposure assessments, etc.
Refer to results/report to assist with writing your grant narrative.
3. Complete the online application
You must complete the online application beginning with employer information and baseline data. The baseline data includes a list of claim numbers. A claim is not required for program eligibility. However, if an injury occurred as a result of the task the intervention will affect, then we ask you to report it in the baseline data.

You also must complete the following information:
Baseline data;
Description of the problem;
Proposed intervention;
Research/program needs.
In addition to submitting the online application, you must complete the Budget and Statement of agreement sections by hand. The budget page must be completed without any erasures or edits. Additionally, you must read, initial, and sign the Agreement between Ohio Bureau of Workers' Compensation and the employer. Both sections must have original signatures from duly authorized employer representatives with fiduciary responsibility. Mail them to:

Ohio Bureau of Workers' Compensation
Safety Intervention Grants
13430 Yarmouth Drive
Pickerington, OH 43147-8310

Price quotes from the equipment vendor are required for all proposed purchases. Mail those quotes with signed budget and agreement to the address above.

Finally, you must complete a Vendor Information Form, IRS form W-9 and the Direct Deposit of Electronic Funds Transfer. You'll find links to these forms in the Required forms section of this page. Send these three forms to:

Vendor Maintenance
Ohio Shared Services
Email: vendor@ohio.gov
Fax: 614-485-1052
Mail: P.O. Box 182880
Columbus, OH 43218-2880

4. Grant application reviewed
We will review your completed application to ensure you've answered all questions and completed all forms. We then send the application to the Safety Intervention Review Board for a technical review. The board evaluates the applications individually. If approved, the board forwards the application to BWC's finance department to issue the check. If denied, we'll return the application to you with a letter of explanation.

5. Submit proof of spending
Once you receive your grant funds you must purchase the equipment and implement the intervention within 90 days of the date of the grant check. Within 120 days after the date of the check, you must provide BWC with a copy of the:
Approved grant application budget page;
Itemized invoice(s) pertaining to all approved equipment purchased showing either "Stamped" Paid in Full or "Typed-Written" Paid in Full;
Proof of employer contribution;
Copies of all canceled check(s) or online bank statements issued that demonstrate you paid in full all invoices associated with the intervention. This must include all BWC and employer matching contributions.
6. Purchase extension approval process
We will consider allowing additional time, up to a maximum of 90 days, upon the employer's request. You must make the extension request within the initial 90-day period. BWC recommends you keep copies of all documentation submitted for your files. Rentals or leases are not allowed under the safety grants program.

7. Quarterly data reporting
After you implement the intervention, all grant recipients must file quarterly data reports electronically for two years. The quarterly reports will start on the date which you began using the approved equipment. These reports detail the hours worked by the affected population and list claim numbers affected by the intervention, if any. Submit the quarterly report within 30 days of the end of each quarter. You can access the safety grants reporting here.

8. Case study
BWC requires you to provide a case study with a cost benefit analysis one year from the intervention date; two- and three-year case study reports are optional. The case study template is available here . The cost benefit analysis is located here. Submit the annual case study with cost benefit analysis within 30 days of the one year reporting period. BWC will require employers who fail to adhere to the reporting requirements to reimburse it up to the full amount of the grant. Top of page

Use of grant funds
BWC reserves the right to approve or deny any application based upon research needs, program needs and/or intervention effectiveness. The safety intervention grant review board may deny grant applications for interventions for which BWC has already collected enough research information or for interventions that are outside the scope of the research program. See the moratorium list or call 1-800-644-6292.

Multiple grants
You may apply for grant money more than once, not to exceed the maximum total amount of $40,000 as allowed per employer eligibility cycle.

Approved purchases
You may only use the safety intervention grant to purchase ergonomic, safety and/or industrial hygiene equipment to substantially reduce or eliminate workplace injuries and illnesses. You may not use safety intervention grant funds for salaries, wages, internal labor and the cost of preparing the application. You must complete purchases within 90 days of receipt of grant award. BWC will hold a company responsible for using the grant in the intended manner. The company may face administrative, civil and/or criminal sanctions should it misappropriate funds.

Prior purchases
You may not use grant money for safety interventions you've already purchased. This includes any or all of the following:
Ordered equipment;
Received equipment;
Received paid equipment.
If you make the purchase/payment prior to receipt of the grant check, BWC will consider the purchase retroactive and it will request return of the funds.

Any changes to intervention must be approved
If the employer decides to make any changes to the intervention during the implementation, the changes must be approved prior to the implementation of such changes. You must submit requests for changes and/or modifications in writing as an addendum to your application, and provide BWC with an amended budget and itemized expense report. If you have questions, call 1-800-644-6292.

Testing equipment
Employers may test equipment before applying for a safety intervention grant. BWC grant funds will not be used to cover the cost of testing. Therefore, the agreement for the testing period is between the employer and the vendor. If the employer decides to test equipment and applies for grant funds to purchase the equipment, the baseline data must be the two-year period prior to the test period.

External consultants
You may not use the grant money for external consultant fees.

Return unused funds
You must reimburse BWC for funds you did not use from the Safety Intervention Grant Program within 30 days after the 90-day expiration date. Failure to repay BWC all unused portions of the grant may result in administrative, civil and/or criminal sanctions.

IRS 1099 requirement
BWC must issue an IRS 1099 form to you for all unused and/or unverified funds. Acceptable verification is your original paid invoice(s) and copies of canceled check(s) to verify payment. If you fail to submit all documentation in accordance with the terms of the Safety Intervention Grant Program, and/or you have not verified how you spent the funds by Dec. 31 of a given year, the award could be considered income received and may be taxable. (Note: The issuance of a 1099 form does not preclude BWC from seeking administrative, civil and/or criminal sanctions if you do not reimburse the bureau all unused grant money and/or funds deemed misappropriated.)

Note: Participation in BWC's DFSP, DFWP and SIG programs requires all grant recipients to verify by invoice/receipt and check copy that the grant money was used for the intended purposes. Failure to do so will result in disqualification from the grant program.

BWC reserves the right to recover grant monies from disqualified grant recipients by one or more of the following methods:
Billing the employer for the grant money received;
Forwarding to the Ohio Attorney General for collection, set off, recoupment or other legal remedy.
BWC expressly reserves the right to limit the amount of reimbursements and to set caps on such reimbursements for each and every specific reimbursable drug-free service.
Top of page
Program considerations
Cooperate with BWC by providing access to information to help measure the effectiveness of your intervention. Allow BWC staff access to the work site to observe, photograph, and/or videotape affected processes before and after the intervention.
Grant recipients must allow BWC to publish safety intervention grant results, including but not limited to data, videos, specifications, and/or photos for the purposes of illustrating, educating, and training employers and employees.
Pursuant to Ohio Revised Code 125.112 (F), BWC is required to post to the BWC website names of grant recipients and dollar amounts awarded.
Conditional Approval
Employers may be granted a conditional approval. A conditional approval requires that the employer meet, or agree to, the conditions set by BWC prior to releasing the grant funds. The conditions are specific to an individual employer's application and must be completed by the specified date. Multiple conditions may have different completion dates. Completion dates may be determined upon review of the application, or by the BWC field consultant with input from the employer.
No job elimination
You must agree you will eliminate no jobs due to the proposed intervention. You should further consider that we'll require you to reimburse us up to the full amount of the grant, should you fail to adhere to the regulations, terms and/or conditions of the award.
Signature on application and agreement
Private employers must sign the application and agreement signifying that they are an employee with fiduciary responsibilities; and the employer agrees the signer or his or her successor will have the authority to oversee the carrying out of the employer's responsibilities for two years after the implementation of the intervention. The signer's authority will continue until the employer notifies BWC of the name of the successor.
Public employers are required to sign the application and agreement signifying that they have primary fiduciary responsibilities under the public employer's BWC policy number. The employer agrees the signer or his or her successor will have the authority to oversee the carrying intervention out of the employer's responsibilities for two years after the implementation of the intervention.
Professional employer organizations (PEOs)

State-fund employers who are in PEO/client relationship are generally not eligible to apply for a safety intervention grant. In order to apply for a grant, the client employer must demonstrate the task being addressed by the grant funded equipment is for employees covered under the client employer's BWC policy.
PEOs are eligible for safety grants under their own policy number. A PEO can only use these grants for operations owned/operated by it and not for any client employer.
Disqualification from program
If for any reason the employer participating in the Safety Intervention Grant Program fails to satisfy one or more of the criteria established in the application and instructions, Ohio Administrative Code (OAC) 4123-17-56, BWC may disqualify the employer from the program. Disqualification will result in termination of BWC's obligations under this agreement. BWC reserves the right to recover grant monies by one or more of the following methods:
Billing the employer for the grant money received;
Forwarding to the Office of the Attorney General of Ohio for collection, set-off, recoupment, or other civil and/or legal remedy.
If the employer merges or combines its business after receiving a grant but before completing the two years of measurement reporting, the BWC Successorship Liability Policy will go into effect.

The grant/predecessor employer is responsible for notifying the successor employer of the obligations under the Safety Intervention Grant Program. The successor employer may be liable to repay any and all previously paid grant monies if it does not meet these obligations. Top of page

Required forms
As a grant recipient, the state considers you a state vendor. This means you must complete the three forms below, and send them to Ohio Shared Services.

Vendor Information Form (OBM-5657-Rev.11/1/2011)
Verify all fields are complete and you have signed the form. We do not accept electronic signatures. Also, verify information contained on the W-9 matches that provided on the Vendor Information Form - specifically, legal business name, taxpayer ID# (TIN) and business type/business entity.

Request for Taxpayer Identification Number & Certification (W-9)
Complete all applicable sections of the document, including taxpayer type, a valid tax identification number and responsible party's signature. We do not accept electronic signatures. The information you provide must match how you're registered with the IRS. You can find instructions for completing the form on the IRS website. Should you require additional assistance, contact the IRS at 1-800-829-1040.

Authorization Agreement for Direct Deposit of EFT Payments (OBM-4310-Rev.11/1/2011)
The preferred method of payment for the State of Ohio is EFT. Complete this form and include a current voided check or bank letter. The agreement contains instructions. Send the completed forms to:

Vendor Maintenance
Ohio Shared Services
P.O. Box 182880
Columbus, OH 43218-2880
Email: vendor@ohio.gov
Fax: 614-485-1052

If you have questions, call Ohio Shared Services at 1-877-644-6771 or 614-338-4781.

Top of page

Reporting
Submit your 90-day data reports here.
Employers are required to provide a one-year case study report and cost benefit analysis on their Safety Intervention Grant item. E-mail the case study and cost benefit analysis one year after the implementation date to dshsg@bwc.state.oh.us.

Alternatively you may send or fax to:

BWC Safety Intervention Grants
c/o Safety Intervention Grants program coordinator
13430 Yarmouth Drive
Pickerington, OH 43147-8310
Fax: 614-365-4972

Annual reporting forms

Best practices
This section of our website allows users to select an industry and risk factor type, or enter a key word search to obtain case studies specific to their interests.

Preliminary results of the CTD grant program
We developed the best practice manuals listed below based on the research data gathered through our Safety Intervention Grant program. Click on any link below to download and print.

Drug-Free Safety Program (DFSP) grants
DFSP grants are available to assist employers who are implementing the DFSP at the Basic or Advanced level. However, employers operating a comparable program are not eligible for DFSP grant funding.

The new DFSP grants guide is available for services supplied under the DFSP program requirements (services rendered after July 1, 2010). You also can view a chart that summarizes the new DFSP grants policy and covered items.

Top of page