OhioBWC - Employer:
(Safety Grants) - Before you apply
---
Safety Grants
The purpose of the Safety Intervention Grant Program is to gather information about the measureable effectiveness of workplace safety interventions so we may share the results with Ohio employers. The program is available to any Ohio state-fund or public employer who wishes to purchase equipment to substantially reduce or eliminate injuries and illnesses associated with a particular task or operation. The program is designed to work and partner with Ohio employers to establish safety intervention best practices for accident and injury prevention.
With the safety intervention grant, private and public employers are eligible for a 3-to-1 matching grant, up to a maximum grant award of $40,000 for each eligibility cycle. This means BWC gives $3 for every $1 the employer contributes.
In return, employers will submit to BWC eight prescribed, quarterly data reports and one case study with a cost benefit analysis one year after the date of the intervention. We'll use this information to determine the effectiveness of the intervention and share successes with other employers. To review the complete policy for the program click here, otherwise, click on the appropriate link below for the specific information you want.
Grant process involves five phases.
You must read each section thoroughly before applying.

Determine if you're eligible to apply.

To be eligible for a safety intervention grant, you must meet the following criteria:
Be a state-fund private or public taxing district employer;
Maintain active coverage - not more than 40 days lapsed in the prior 12 months;
Be current on all monies owed BWC;
Demonstrate the need for safety intervention;
Provide two-year baseline data;
Activated BWC coverage at least two years ago and completed sufficient payroll and/or true-up reporting to determine eligibility cycle.
If you fall into one of the following employer categories, you're not eligible to apply for the safety intervention grant.
Employers that pay the minimum administrative charge or only payroll for elective coverage (sole proprietors or partners)
Self-insuring employers
State agencies
State universities
If you're eligible to apply for a grant, you must contact your local BWC customer service office to schedule visit(s) by a BWC consultant prior to submitting the online application. The employer will allow BWC staff access to the work site to perform an assessment of the facility and operation/area of concern. BWC staff will also complete a comprehensive safety assessment report. This assessment provides BWC with a more comprehensive look at the applicant's overall safety practices. This could help assess the cost effectiveness of providing a safety grant. BWC will also conduct a five-year claims history review.

To schedule a consultant to visit, please contact your local customer service office or for assistance call 1-800-644-6292, and listen to the options.

Eligibility cycle
Employers who meet the previous eligibility requirements may receive grant funds up to $40,000 per eligibility cycle. We determine the eligibility cycle by review of the last full year for which payroll information is available. For private employers, the policy year is July 1 through the following June 30. For public employers, the policy year is Jan. 1 through Dec. 31.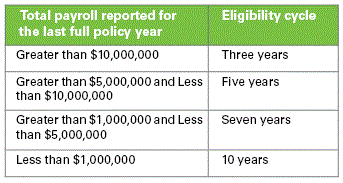 Preparing for the BWC consultant visit
Use the list below as preparation for your meeting with the BWC consultant. You should gather the following data for the operation of concern.
Injury statistics, associated claim numbers and costs for past two years
Production and quality data
Absenteeism and turnover rates
Number of full-time and half-time employees in operation of concern
Hours worked by all employees in operation of concern for past two years
Job safety analysis or work procedures
Pictures or video of the operation/tasks of concern
You should determine what type of intervention you plan to implement.
Verify the item is not on the BWC safety grant moratorium list.
Consult the affected employees in the area of concern about your plans for implementing the equipment and solicit their feedback.
Contact vendor(s) to research item.
You may wish to arrange for a demo or a trial period if possible.
You may obtain pictures or drawings to help illustrate intervention(s).
Get a recent, detailed price quote(s) for the intervention(s) from the equipment vendor. The detailed price quote must be specifically for the employer applying for the grant funds and must list all items to be purchased. It's highly recommended to obtain a quote(s) of 120 days or longer.
You should arrange for a BWC assessment of your facility and operation/area of concern.
This BWC assessment will be arranged with a BWC safety consultant, ergonomist, and/or industrial hygienist as described in step 3.
You should gather safety management and safety program documentation.
You will assist the BWC consultant with facility/job analysis, exposure assessments, etc.
The results of the assessment will assist you when completing the application questions.
Top of page